Out-of-the-Box Lunch Note Ideas
—From Huffington Post
Each Monday this past year I took a few extra minutes and put a special note in my daughter's lunch. She not only read every one, but she even kept a few in her backpack.
Lunch notes can make all the difference in your kid's school day. I'll be honest, if I opened up my vintage Transformers lunch box (I mean…If I had one, yeah that's what I meant ) at work and found a note, I'd probably be the happiest guy in my office. I might even rush home and vacuum the house.
Your kids will go crazy too when they open up their lunch box to see these fun and easy notes inside. Just remember, you don't have to be fancy to be effective. Your kids will just love that you took the time to think of them and to write something special.
1. The Edible Note
On a flat food, like a tortilla or slice of cheese, write out a note using edible ink. You can use a toothpick and food coloring or even a food color marker. If your kids can't have foods with artificial colors you can use natural food coloring instead.
2. The Reusable Note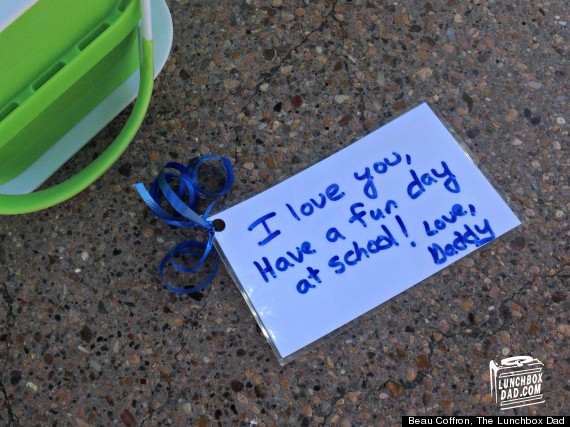 Take a small piece of white paper and get it laminated. You can then write a special note on it with a dry erase marker. This can easily be wiped off and used again. For even more fun, include the marker in the lunch bag. Your child can erase your lunch note and write you a note back.
3. The Picture Riddle Note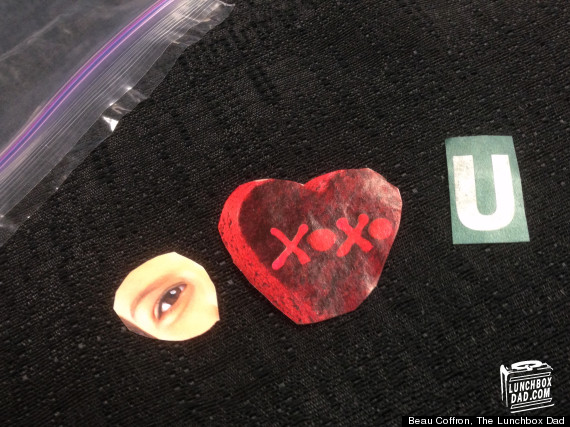 Find small pictures in magazines that represent words and make a phrase out of them. For example "I Love You" made from a picture of an eye, a heart, and the letter "U." Put them in an envelope or Ziploc® Snack Bag to keep the pieces together. Search the web for "rebus puzzles for kids" for more ideas.
4. A Puzzling Note
Write a note (or print off a special picture of you and your child) and cut it up into puzzle shaped pieces. Spread the pieces throughout the lunch and their job is to put it back together to see your message to them. If they have an attitude with you that morning you are always free to expand the number of pieces from 10 to 1000.
5. The Week Long Note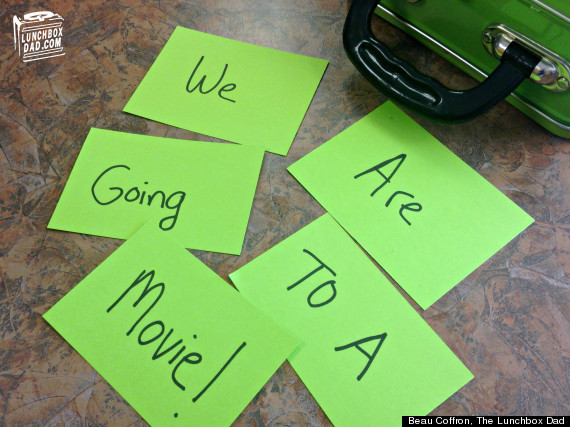 This will take a little planning ahead but it's worth it. Think of a short phrase that will let your child know about a fun outing that you will be doing together that weekend. Print one or two words on one piece of paper and put it in their lunch box. Repeat for each school day until the phrase is complete. For example, "We are going to a movie." This works equally well for spouses: "You get to give me a massage."
6. The Prize Voucher
Mix it up with a prize voucher instead of a note. Say something like, "This note is worth one free ice cream cone with Aunt Elizabeth." Word it that way so you get the credit and their aunt can deal with the sugar rush.
7. The Treasure Hunt Note
As you drive to school let your child know there is a special note for them in their lunch. Place the note in a Ziploc® Sandwich Bag (to keep it clean) and hide it somewhere, such as under their carrot sticks. It might even get them to actually take their vegetables out of their lunch box!
8. The Brain Teaser Note
Do an Internet search for "puzzle maker" and you get results for every type of free customizable, and printable, word puzzle you could want. The great thing about this idea is that you can enter hard or easy words depending on the grade of your child.
These tips can help make you the hero but more importantly help your children feel loved. Kids don't care so much if school lunch notes are elaborate, they just care that they are from you!
Keep the "food fun" going at home, too! Here's a fun cookbook that comes with cute recipe names and easy-to-follow directions.
The Happi House is an entertaining and informative weekly magazine style television series for women. Hosted by Happi Olson, Lifestyle Expert, each episode is full of robust content on a variety of fun and useful topics such as homemade beauty products, hosting unique children's parties, fashion trends, family vacation tips and tricks, DIY home décor, easy family meals and more.